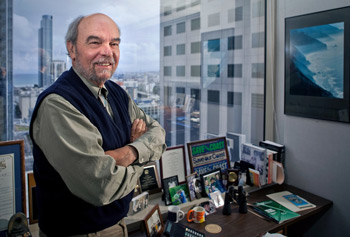 Apr10
Peter Douglas, who fought for decades to preserve the California coast — treasured for its vast stretches of pristine beaches, jagged cliffs and delicate wetlands — died on April 1 at his sister's home in La Quinta, Calif. He was 69.

The cause was lung cancer, his son Vanja said.

For 26 years, Mr. Douglas was the executive director of the California Coastal Commission, the powerful state agency that he helped create with a mandate to keep the coast open to the public — and one that set a high standard for its counterparts in other states.

He brought a profound passion for the sea to the task.

Mr. Douglas was a boy when he, his mother and sister boarded a ship to cross the English Channel while emigrating from Germany after World War II, eventually coming to the United States. The roiling currents and tides entranced him, he once said, creating "an intangible, unbreakable, lifelong bond."

It became his mission to ensure that all Californians could swim, surf, fish or just see the sea along the 1.5 million acres of the state's 1,100 miles of coastline — to the consternation of many commercial interests and property owners.

Mr. Douglas was the executive director of the commission from 1985 until November, when he stepped down because of his declining health.