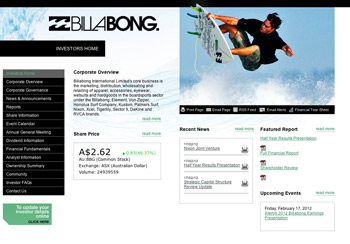 Feb17
Billabong International Ltd. is being eyed by several private equity firms, with one company presenting an offer of $776 million, according to a report from the Australian Financial Review. Reports say the offer is believed to have been made by US private equity giant TPG, which also owns J. Crew, Ducati, and U.S. Airways, to name a few. The company also just issued a trading halt announcement earlier today, according to its Investor Relations page. The Sydney Morning Herald reported that  Billabong had "requested a trading halt pending an announcement on the strategic capital structure review it flagged the week before Christmas when the company slashed its earnings outlook. Billabong shares are trading at literally 20 per cent of last year's levels thanks to the downgrade making it vulnerable to corporate predators."

The news comes on the heels of swirling rumors that Billabong CEO Derek O'Neill would be removed from the company's board of directors, which were denied by Chairman Ted Kunkel, who said "I categorically deny the suggestion," according to a Sydney Morning Herald  post.

"At this stage we have not offered any comment and are unlikely to say anything until the release of our results tomorrow," stated Billabong Australia Communications Manager John Mossup via email.